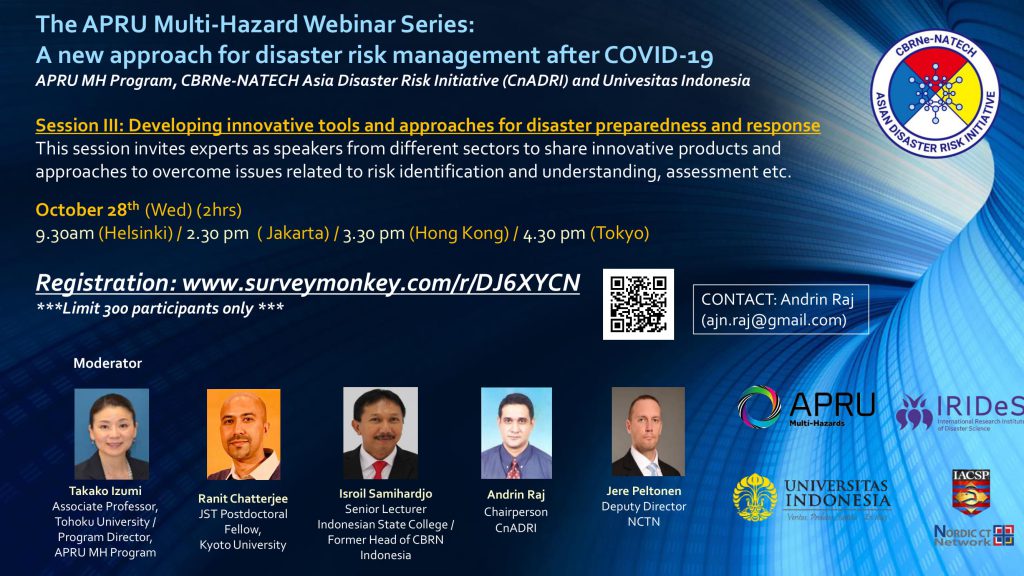 APRU Multi-Hazards Webinar Series: A new approach for disaster risk management after COVID 19
SESSION III: Developing innovative tools and approaches for disaster preparedness and response:
A number of innovative tools and approaches in the fields of natural and social sciences, engineering, medicine, etc. have been developed to contribute to reducing disaster risks. In this session, experts from different sectors will share innovative products and approaches to solve and overcome issues and challenges related to risk identification and understanding, assessment, communication, etc.
October 28 (Wed) (2 hours): 9.30am (Helsinki) / 2.30 pm (Jakarta) / 3.30 pm (Hong Kong) / 4.30 pm (Tokyo)
Registration Link : https://www.surveymonkey.com/r/DJ6XYCN
Webinar Series Webpage : https://apru.org/event/the-apru-multi-hazards-webinar-series-a-new-approach-for-disaster-risk-management-after-covid-19/
Download the flyer (332kb)