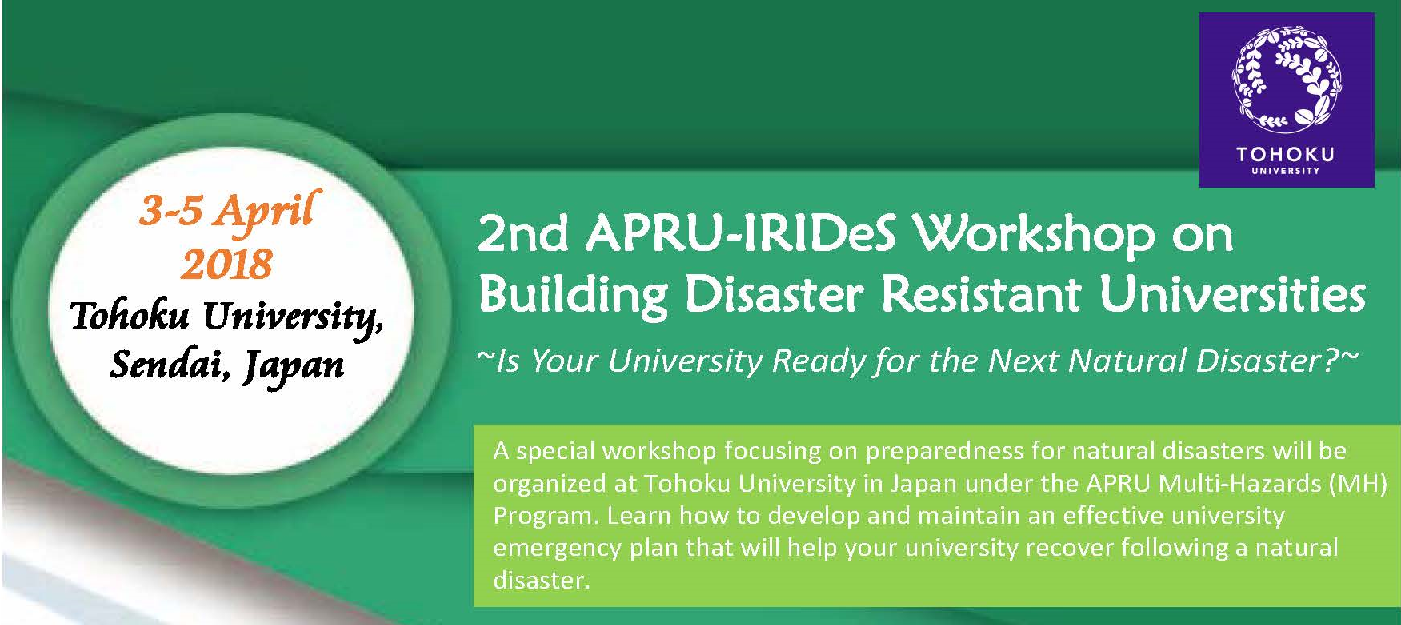 The 2nd APRU-IRIDes Workshop on Building Disaster Resistant Universities
~Is your university ready for the next natural disaster?~
Tohoku University, Japan, 3-5 April 2018
Background
In 2015, the Campus Safety Survey and the Report have been developed with contributions from 22 universities. Following, the first campus safety workshop was held in 2016, bringing more than 30 participants to the Tohoku University, Sendai.    We found that risk assessment, alert systems, and support for foreign students required more attention. Additionally, many universities encounter financial constraints in developing preparedness capacity on campus. Any obstacles are further compounded by human resources challenges, lack of awareness of safety issues, and low participation rates by faculty and staff.   The Campus Safety Workshops at Tohoku University aim to address these needs. Building on the previous event, the 2018 workshop looks to help campuses develop strong leadership in disaster preparedness and formulate a sound disaster management plan.
Objectives
■ Share experience of disaster preparedness on campus, identifying issues and challenges
■ Discuss how to strengthen universities' current management plans
■ Highlight areas of disaster management—chemical/technological, pandemic, and environmental hazards
Program
The Campus Safety Workshop consists of a two-day session and one-day site visit to areas affected by the Great Eastern Japan Earthquake and Tsunami.
Topics include:
■ Experience-sharing and case studies from participating universities
■ Strengthening preparedness and emergency management plans
■ Preparing for different disasters
■ A tabletop simulation exercise
(topics are subject to change)
Travel Costs
Participants are required to fund their own travel and accommodation. No registration fee is required for this Workshop.
Registration
We hope to receive any interested delegates' contact information (including names, titles, research interests and experience) by email at application_apruss@irides.tohoku.ac.jp no later than February 23, 2018.
Additional information
For more information about the Campus Safety Program, please click here.
For further inquiries regarding the workshop, please email Dr. Takako Izumi (Associate Professor, APRU-IRIDeS Multi-Hazards Program Director) at application_apruss@irides.tohoku.ac.jp.